I'm taking on the TCS London Marathon 2023!!!
Thanks for visiting my page! Many of you will know I love to run but I have never run a marathon before! It's something I've always wanted to do so I have decided finally to take on the challenge of the London Marathon 2023 and raise some money for the ABF The Soldiers' Charity at the same time!  
Sadly I lost my amazing friend and colleague at Gordon's of 18 years, Steve Monk last year. He was the one who got me into running in the first place so it seemed only right to enter the marathon, and with him being ex Army PT Corps the ABF Soldiers' Charity seemed the perfect cause to run for. I know he'd be chuffed I was running for them.

As a teacher at Gordon's for 22 years I have taught so many children whose parents serve or have served in the Army, worked with a number of staff who have been in our Armed Forces and having close friends that have served again it seemed the perfect charity.

ABF The Soldiers' Charity really do make a difference to so many lives supporting our Army personnel and their families in so many ways. I've created this page because I want to help them raise vital funds. Please help me help them by giving whatever you can using the 'donate' button. The more people that help the better so please spread the word by sharing my page with your friends and family. 
It's going to be tough and a huge challenge, but I know Steve's voice will be in my head through the dark cold winter training!
Thank you in advance for your generosity, it means a lot!

My Updates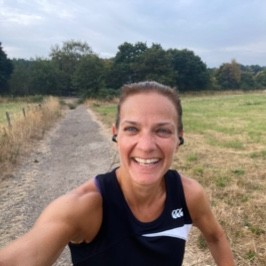 Longest Run Ever!! 30km
Another weekend running - steady 50mins via Brookwood Cemetery to Pirbright on Saturday with the added bonus of coffee and croissants at the end!!
Then completed my longest run EVER on Sunday!!! 30km along the Canal to Ash Vale and then over the Ranges where I used to run with Steve and Jackie. Really pleased to have got that done - although my legs aren't too pleased about it today!!
Thanks again for all your support - I'm blown away by all your donations and your lovely words! xx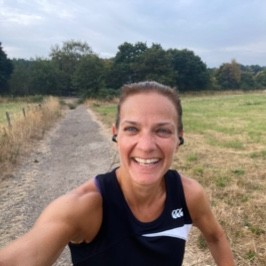 Happy Birthday Steve! xxx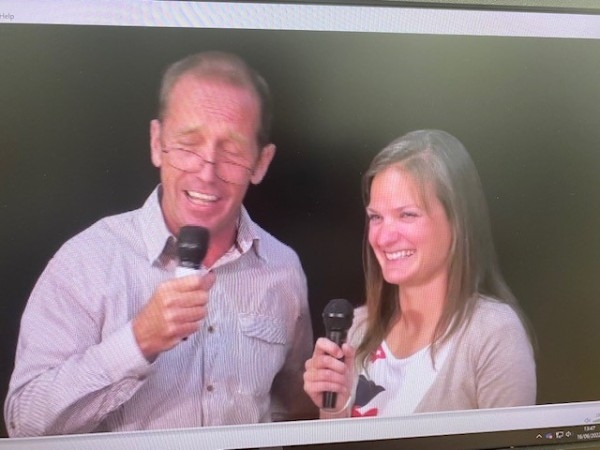 Thank you so so much for your amazing support and all the donations! I am massively grateful to all of you. Training is getting tougher and longer but your support and Steve's voice in my head are keeping me going. I thought this photo would make us smile - taken quite a few years ago now when Steve and I were an act in the Staff Video Gordon's Got Talent. I couldn't keep a straight face as typical Steve hadn't learnt the words and was making them up!!!!! Toasting you with a glass of port tonight - Happy birthday me old mate! xxx
Back to cursing you on my run tomorrow xxx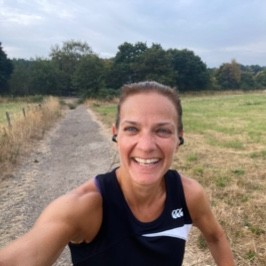 Half Term Training
Busy half term with 6 different runs! Legs are definately feeling it! Have been over running along the Basingstoke Canal at Frimley along to Ash Vale which reminded me of all the runs I've done there before with Steve and Jackie. Lovely to catch up with ex-Gordonians Abi and David too. Thanks so much for all your support and donations - 9 weeks to go!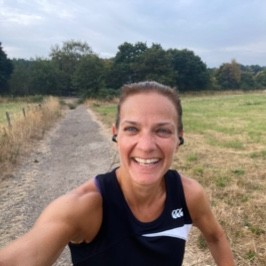 Weekend Training 28.1-29.1.23
Hi All
Thank you so so much for your amazing generosity and support! All your donations and lovely comments mean loads. Training went well this weekend - a 1hr50mins long run with Charlotte and Caroline (thanks for the company ladies) and a not so nice Interval Run along the Thames at Hampton Court!
Thank you to my Sponsors
Ron Campbell Marie Rowe Tom Clarke Judith Clarke Beth & Gang Christopher Tyler Garry Roderick Michela Ferdinando Paul Curley Sally Peries
The Richardson's Chelsea (penn) Kat Stephens Julie Wink Jim Mackenzie Raptc Sulle Alhaji Tracey Phillips
Simon Depoix The Jenkins The Holmes's Sean Allen Tony Varcoe
Team Staton Delya & Ken Phil & Cara Kemp Jo Green
Lou Moulsdale Rachel And Adrian Gilbert
Marion Jones Mrs Helen Sargent Jamie And Katie Kathryn Moore Jennifer Taylor Louise Everett Josephine The Mozzie's Katrione, Cam, Fraser & Ellie. Susan Meikle John Carr The Unsworths Matt Murphy Hannah Dart Xx Rob Davidson James Blackmore Anonymous Mick Gannon
Kareen O'brien Keith Blackmore Mark Porter Lexie Knowles Skippy Kerr Robert Coulthard Sandra Varcoe Freddie And Linda Dawkins The Tindale's Abi White The Brazendales Angela Mathews Amy & Robbie David Ventress Tate Pilgrim Lee Ball
Adam Porter Pam & Dave Barlow Harriet And Spragg Pippa Marlow Bradshaw Family Amanda, Mark, Abi & Tom Foote Linda Gawley Philip Fox Kelly Hurley Lisa Clinch Jacqui George Rainy Pullen Nicole Humphrys Vicky G Jeremiah Kerrigan Julie Anderson Maureen Morgan Anna Ward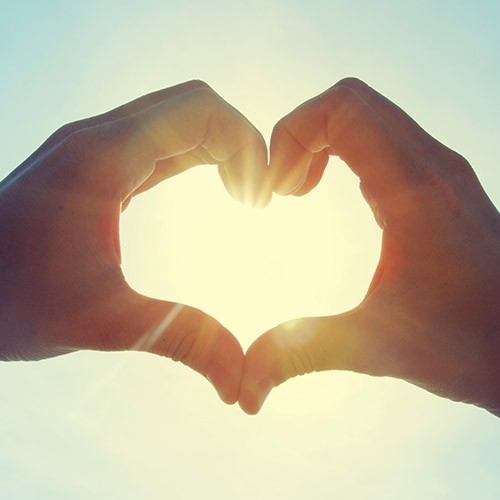 Jan Bryant Sally Pauley Jerry And Carol Kerrigan Paul Schofield Martin Sheern Susan Clarke Anonymous Anonymous Anonymous Rosie Otero Sheila And David Wolfendale
Jamie Thomas And Family Janet Walker Beth Bazza, Bodz, Harv & Cb Oli Foreman Grethel Coralie Fulton Susannah Hughes Chloe Dunne Helen Sargent Dougie & Sue Peters Anonymous Emma Mccargow Stephanie Busby Claire Watson Kate Williams The Waldens Dawn Weston Simonne Baird David Hutchings Steve And Fiona Boorman Kritagya Limbu Mia Weiss The Haylocks Alice Edwards Lizzie Mosdell James Kennett Fiona Lewis Ben Gallagher Anna Leonce Mark Eaden Mr Kevin Clay Petra And Archie Kidwell Sarah Brooks Catherine Melis Oli Hope Matt Boote Fiona Fernandez Lyn Higgs Luke Whistlecroft